Lahore Fort or Shahi Qila as it is also known as stands in the historic city of Lahore, Pakistan. Originally built sometime in the 11th century, it is known for being almost entirely rebuilt in the 17th century. This citadel has undergone various updates and renovations over the years, and this article will highlight notable buildings, museums on its property, and visitor touring opportunities.

There are gorgeous architectural masterpieces to see, as well as many things to learn. The United Nations Educational, Scientific and Cultural Organization named the Lahore Fort and Shalamar Garden as a World Heritage Site in 1981. It is currently under control of the Punjab Government. The Division of Archaeology and Tourism runs the site, and in 2005 to 2006, it was awarded funds to restore parts of the Lahore Fort that had been damaged or worn away.
Notable Buildings
This gorgeous landmark has several notable buildings. They are pay homage to the stunning architecture and have historical significance. Each of these buildings offers something for any history buff to see.
Akbari Gate (Eastern Gate) The Akbari Gate was built around the period of 1566 A.D by Emperor Akbar. In 1614, the Empress built a mosque just outside of Akbari Gate, and it still stands today. This gate was also called the Masti Gate, and this was one of two gates that have existed here
Alamgiri Gate The Alamgiri Gate showcases the disciplined structure but combines it with a perfect grace and dignity. This Gate is located on the west wall and was built around the early 1670s. The Alamgiri Gate opens into the beautiful Hazoori Garden.
Ath Darra The Ath Darra is a building that is known for having an impressive eight doors to the outside. This building was used in court proceedings by Maharaja Ranjit Singh, and it reflects this with the gorgeous attention to detail and craftsmanship. The northern wall features beautiful paintings, and the ceiling's exquisite mirror and woodwork were restored recently by the Department of Punjab Archaeology.
Bangla Naulakha The Bangla Naulakha is a pavilion that was built during the historical Mughal era and still stands today. This Pavilion is known for its intricate pietra dura work, and this pietra dura is studded with precious stones like Agate, Jade, and Goldstone. If you enter this building and look up, you will see a mixture of wooden trellises and fine looking glasses.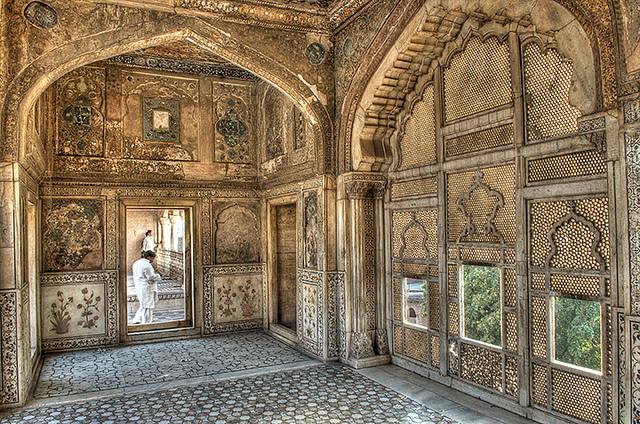 Diwan-e-Aam The Diwan-e-Aam is a 14 pillar hall that was originally constructed around the early 1640s by Shah Jahan. It survived a battle, but it was mostly destroyed. However, it was rebuilt by the British in 1849 A.D. and has stood to this day. The state balcony marble is one of the earliest parts of the Lahore Fort.
Diwan-e-Khas The Diwan-e-Khas was also constructed in the early 1640s. This structure is also known as the Hall of Special Audiences and is primarily made of marble work inlaid with Agate, Jade, and other precious stones. There are also hand carved marble screens along with a marble cistern that showcases the royalty that once used this hall.
Hathi Paer These stairs were built for the express purpose of allowing elephants that were carrying royalty to and away from the royal palace. This staircase has 58 broad steps that are over 18 feet wide, and 18 feet long. They go from the palace to the outer courtyard.
Moti Masjid The Moti Masjid is also known as the Pearl Mosque. It gets this name for the gorgeous white marble work that is found throughout this Mosque. It was built in the late 1600s and still stands today. It was used for years as a treasure by the Sikh rulers.
Paien Bagh The Paien Bagh is a prize garden that is considered to be a central point of the Mughal Garden. It was built for ladies of the court to maintain their health. It features brickwork and a fountain in the center of the garden.
Touring Options
The Lahore Fort is open for visitors for guided and unguided tours. It is open seven days a week with varying hours of summer and winter trips. You enter through the Hathi Gate and purchase your tickets from the booth that is situated right next to it. This is an excellent learning opportunity as you literally immerse yourself in history. As you walk along the fort, you can also visit the many on-site museums at no additional cost.
Lahore Fort Museums
There are several different museums located at the Lahore Fort, and once you buy a tour ticket, you can visit them all at no additional cost. There are three on-site museums, and they are listed below.
Armory Museum. The small Armory Museum is located in Moti Masjid's Dalan-e-Sang-e-Surkh district. This museum showcases armory that was taken by the British during battles with the Sikh. There are arrows, daggers, helmets, guns, pistols, spears, and swords.
Mughal Gallery The Mughal Gallery is like a historic library. It contains manuscripts, paintings, coins, and examples of Arabic and Persian calligraphy.
Sikh Gallery. The Sikh Gallery is the final museum you can visit at the Lahore Fort. It displays the Princess Bamba Collection for visitors to view. There are oil paintings along with paintings by European artists.
The Lahore Fort is a beautiful historic site that is open to the public. Visitors can immerse themselves into the historical sites and buildings, as well as take a tour. This beautiful building has stood the test of time, and it is still as magnificent now as it was centuries ago. If you're planning a trip to Pakistan, put the Lahore Fort on your list of places you have to visit. You won't regret it, and you will make memories that will last a lifetime.